Our EXTRA VIRGIN OLIVE OIL is a totally natural product, pure olive juice, the result of the well-coordinated work between our technical departments and the farmers. The olives are harvested early, at the end of autumn and the beginning of winter, which means that the fruit still retains all its living properties. Its quality is the result of a combination of factors such as climate, soil, varieties and cultivation techniques.
We only produce extra virgin olive oil, cold pressed, without any type of alteration. With the commitment of our partners, we advocate sustainable Mediterranean agriculture, the maintenance of the landscape and respect for the millenary cultivation that we have inherited. We produce a high quality product by controlling the whole process from the olive grove to the packaging of our Extra Virgin Olive Oil.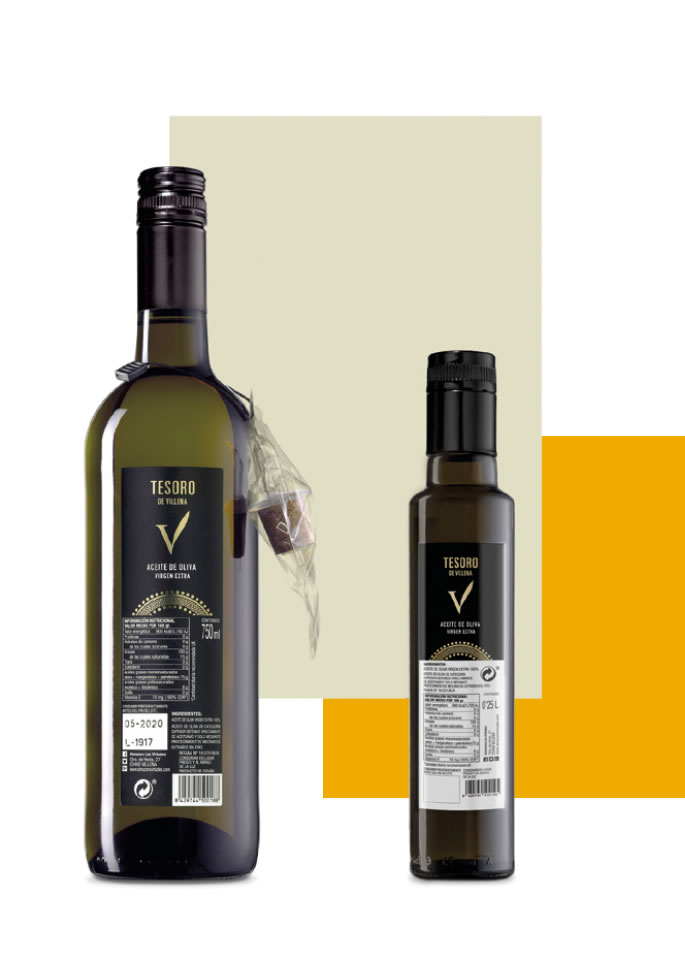 Tesoro de Villena extra virgin
It has a medium/high fruitiness, between green and ripe, it presents an exquisite harmony. In the mouth it is sweet on entry, green almondy, and with a pleasant spicy and bitter finish. It is balanced due to the wide coupage of Mediterranean varieties with which it is made.
Tesoro de Villena Extra Virgin 100% Arbequina
The Arbequina variety is currently one of the most popular varieties due to its sweetness and smoothness. Harvested early by our farmers in autumn, to achieve more intense aromas and flavours, it is transformed into oil only by mechanical means and respecting as far as possible the characteristics and properties of a quality extra virgin olive oil. It is highly fruity, with green notes of apple and banana. In the mouth it is sweet, smooth, with hints of apple and fresh almonds.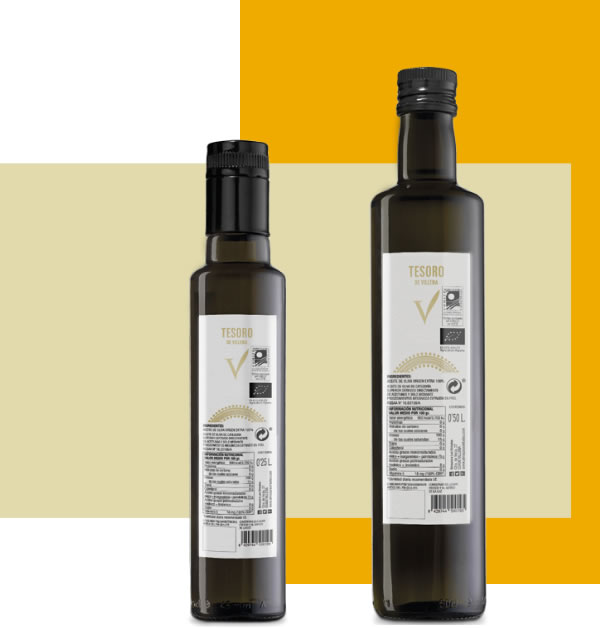 Tesoro de Villena Extra Virgin Organic
From organically grown olives we obtain a balanced and very rich in nuances oil. Intense fruitiness with notes of freshly cut grass, bitter and spicy sensation well balanced with hints of green almond and apple.
LAS VIRTUDES ECOLOGICAL "EN RAMA"
Las Virtudes Ecological is a gourmet oil from traditional varieties, from old and large olive groves cultivated using organic farming techniques. It is an unfiltered oil, in branch, and from an early harvest, which means that all its properties are intact. High in polyphenols and Vitamin D.
Made with different varieties selected from our best organic certified olive groves, we obtain a premium oil, with a high fruity taste, generous, sweet and balanced. Its perfume of green tomato and olive leaf is deep and persistent.